---
Quality Inn Resort
3850 North Roosevelt
Key West, FL 33040
800-533-5024 | 305-294-6681 | Fax 305-294-5618
e-mail: quality1kw@aol.com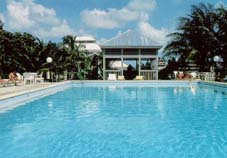 Four landscaped acres where you can stroll among native foliage, bask in the warm Florida sun . . . mingle with the local "conchs" at the Seawitch Lounge, dine in the restaurant, or just relax in one of the 148 spacious rooms or apartments.
Some of the rooms are equipped with speaker phones and a modem for computers and fax machines.
Reasonable rates, warm friendly atmosphere, and courteous staff make the Key West Quality Inn Resort an ideal vacation spot.
Directions:
From Miami take the Overseas Highway (US1) to Key West. Turn right onto Key West. On left.
---

Return to Quality Inn Resort Key West

Go to Quality Inn Resort Key West Reservation / Information Form
Go to Quality Inn Resort Key West Rate Information

Go to Florida Keys Travel and Entertainment
Go to the All Florida Travel Directory