---
All Florida Directories
Information for Inclusion in the Directory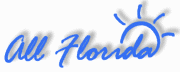 Florida's Business Directory
---
The All Florida Directories are incorporated on one large Internet site which offers a cross-section of Florida related businesses. The site features everything from local restaurant's take-out menus to automobile transport services. To make the Directory easier to use, it is divided into separate categories or Directories.

All Florida Directories have no advertising generated off-site -- commonly known as "Banner Advertising" -- and are built to run quickly and cleanly on old browsers, cluncky 386 processors, and 9600 baud modems.

We do not collect traffic information for publication. We believe the thousands of "hits" we receive daily are meaningless for individual businesses -- unless those "hits" represent actual visits to a specific site. Only then do they mean something. That is why we guarantee a specific number of "visitors" for a specific site.

In short, All Florida Directories deliver highly motivated buyers in numbers to individual Listing Sites.

The next pages show what is included in an All Florida Directory Listing. We recommend next visiting the General Pricing Information Page.
---
The All Florida Directories provide sales information (advertising) to the world in a way the world can download, understand, and use!
---
All Listings Include:
One year on-site
Listing in the appropriate directory
Free "word" changes
---

The All Florida Directories:
All Florida Accommodations Directory
All Florida Bed & Breakfast Directory
All Florida Business Directory
All Florida Educational Directory
All Florida Legal Directory
All Florida Health Care Directory
All Florida Media Directory
All Florida Manufacturers Directory
All Florida Products and Services Directory
All Florida Real Estate Directory
All Florida Religious Organizations Directory
All Florida Restaurant Directory
All Florida Shopping Directory
All Florida Travel Directory
All Florida Transportation Directory

---

Go to the All Florida General Pricing Information Page
Go to the All Florida Directories Inclusion Request Form
Go to the All Florida Available Packages Explanations and Costs

+ + + + +

Go to the All Florida Directory
Go to the All Florida Education Directory
Go to the All Florida Employment Directory
Go to the All Florida Health Care Directory
Go to the All Florida Manufacturing Directory
Go to the All Florida Media Directory
Go to the All Florida Medical Directory
Go to the All Florida Real Estate Directory
Go to the All Florida Shopping Directory
Go to the All Florida Travel Directory
Go to the All Florida Transportation Directory


© Copyright 1997-1999 by Destinations Florida Marketing, Inc., Naples, Florida, USA
e-mail to: All Florida Directories